Four Days With Kenny Tedford
By Paul Smith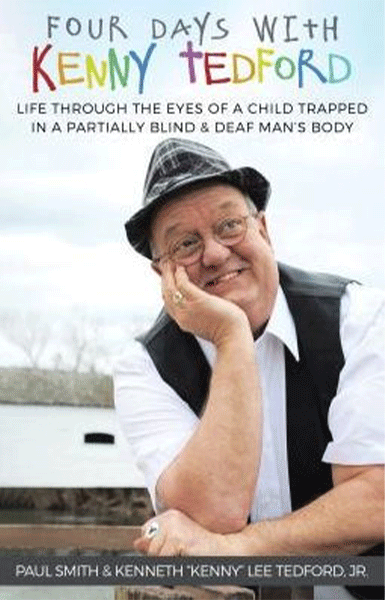 Trade paperback
5 ½ x 8 ½
343 Pages
Non-fiction – Memoir/Biography
Release Date: November 2019
$15.95
ISBN: 9781941887103
Kenny Tedford was born with brain damage that left him with the intellectual ability of a 4th grader, deaf in both ears, legally blind in one eye, partial paralysis on his left side, and difficulty speaking until the age of ten — a remarkable combination of Helen Keller and Forrest Gump.
Mocked in school, Kenny could have easily been bitter with life, especially when teachers, counselors, and the Board of Education said he'd never pass the 3rd grade. But Kenny proved them wrong by graduating high school, attending Gallaudet University for the Deaf in Washington, D.C., earning a B.A. in Theater from the University of Tennessee in Knoxville, TN., and finally a Master's Degree in Storytelling from East Tennessee State University.
Along the way, Kenny survived cancer, heart attacks, breaking his neck, family troubles, and heartbreak. But none of his hardships stopped him from living his dreams as a storyteller. Kenny's life is a unique combination of joy and heartbreak, laughter and tears, failure and accomplishment, friendship, faith, and peace. And grace.
About the Author
Paul Smith & Kenny Tedford
Paul Smith
Bestselling author Paul Smith is one of the world's leading experts on organizational storytelling. His work has been featured in The Wall Street Journal, Inc. Magazine, Time, Forbes, Fast Company, The Washington Post, PR News, and Success Magazine.
Paul delivers professional workshops and keynote addresses on storytelling for leaders and salespeople. He holds a bachelor's degree in economics and an MBA from the Wharton School at the University of Pennsylvania. He lives with his wife and two sons in the Cincinnati suburb of Mason, Ohio. He can be found at www.leadwithastory.com.
Kenny Tedford
Master storyteller Kenny Tedford Jr. is a man of many talents: a motivational speaker, actor, comedian, counselor, experienced Deaf ministry leader, and former Executive Director of the Tennessee Council for the Deaf and Hard of Hearing.