Mango Rash
Coming of Age in the Land of Frangipani and Fanta
By Nan Sanders Pokerwinski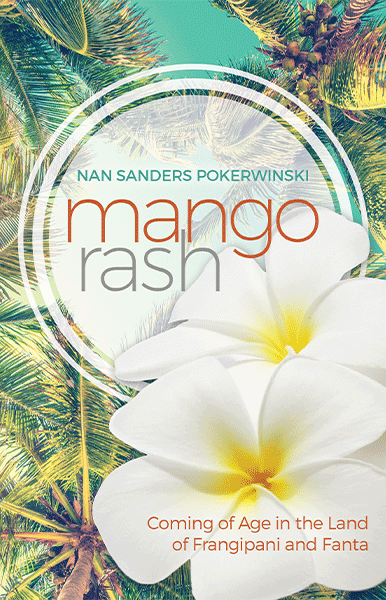 Trade paperback
5 ½ x 8 ½
322 Pages
Memoir/ Travel
Release Date: October 2019
$15.95
ISBN: 9781941887066
Sixteen year old Nancy Sanders trades cruising Main Street, Oklahoma in search of tater tots for strolling sandy shores in the South Pacific with islanders who serenade sharks and feast on sea worms. With a dash of teenage sass, Mango Rash chronicles Nancy's search for adventure—and identity—in two alien worlds: the tricky terrain of 1960s adolescence and the remote and rapidly-changing U.S. territory of American Samoa. In spite of palm trees and ocean breezes, island life is not one big beach party, Nancy finds when she clashes with her parents over forbidden boys, discovers double standards in the expat community, and cowers through a hurricane.
Like Nancy, readers of this unforgettable memoir will fall in love with Samoa's lava-rimmed beaches, frangipani-laced air, and open-hearted people, who face adversity with grace. And just as Nancy does when her own health crisis thrusts her into a very different kind of unfamiliar territory, readers will draw strength from fa'a Samoa: the Samoan Way. In language as lush as the island landscape, MANGO RASH enchants, entertains, and, ultimately, inspires with its message about embracing and learning from other cultures.
About the Author
Nan Sanders Pokerwinski
Nan Sanders Pokerwinski is a former science writer for the Detroit Free Press and the University of Michigan, whose award-winning work (under the byline Nancy Ross-Flanigan) has appeared in numerous other magazines, newspapers, and online publications. Her blog, Heartwood, focuses on creativity, connection, and contentment.
http://www.nanpokerwinski.com/
https://www.facebook.com/MangoRash/
Reviews and Accolades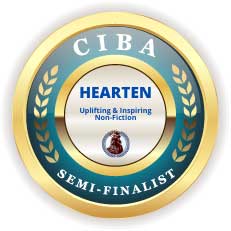 Hearten Uplifting & Inspiring Non-Fiction Semi-Finalist
"In the turbulent 1960s Pokerwinski and her family move to American Samoa just as the author is between girlhood and womanhood, and just as the territory is balanced between Samoan and American cultures. Part travelogue, part family drama, part coming-of-age story, Pokerwinski deftly explores our fascination with teenage angst and exotic locations. Here, in loving, lush, and particular detail, is a welcoming yet troubled paradise for the reader to explore. As the Samoans would say, Mango Rash is matagofie – beautiful."
—Sue William Silverman, author of The Pat Boone Fan Club: My Life as a White Anglo-Saxon Jew
"MANGO RASH is a beautifully written coming-of-age story, where friendship and humour travel the same sun bleached pathways as loss and tragedy, through the heart and mind of young teenager Nancy, whose loving portrayal of tropical Samoa and its people will stay with you long after you turn the last frangipani scented page."
—Lene Fogelberg, author of The Wall Street Journal bestselling memoir Beautiful Affliction
"This is the real thing, a book that takes you effortlessly to somewhere you want to go. Mango Rash is a memoir that reads like a novel, a very good novel, in the esteemed tradition of the Bildungsroman—the story of an adolescent American girl who goes and grows in search of answers to life's questions. The intriguing twist here is that she does so in a place and culture drastically different from her own—Pago Pago, American Samoa.
"Nan Sanders Pokerwinski tells her memories of her year in Samoa fifty-some years ago with a light narrative touch, soft humor, and a poet's eye for detail— 'the ocean's brackish bouquet.' She has a novelist's skill for making her characters real and individual. Her memoir is a travelogue not just to Samoa but also into a young girl's mind as she toys with the edges of adulthood, with Margaret Mead as her travel guide. Yes, this is young Nancy Sanders'—late of Stillwater, Oklahoma—coming of age in Samoa.
"Nan (after reading her book I feel like we have known each other a long time) is also an astute ethnographer. I arrived in Samoa a decade after the events and observations related here, but not much had changed in Pago Pago in that interim. After almost three decades in Samoa as an historian, folklorist, and preservationist, I can attest to the accuracy of her observations. Her curiosity about and immersion in her host culture, the fa'asamoa, was exceptional."
—John Enright, author of the Detective Apelu Soifua Jungle Beat Mystery series
"A coming-of-age journey that feels both exotic and deeply relatable . . . MANGO RASH is warm, witty, and poignant, rendered with lyrical language and keen insight."
–Jenny Feldon, author of Karma Gone Bad: How I Learned to Love Mangos, Bollywood and Water Buffalo

"Neither miles, nor years, can erode the lasting sights, textures, and life lessons of the South Pacific, in Nan Sanders Pokerwinski's keenly aware teenage voice. Amidst the coconut milk, aitu spirits, and green mangoes, she learns 'The Samoan way,' the spirit of pitching in, the island notion that obligation to others is not a burden at all but rather a mark of respect and devotion. There is poetry here, and insight, and postcard perfect beaches if you dare to find them. 'Even on the brightest day, sunlight barely penetrated the canopy.' And even in the darkest moments, Nan's fresh outlook penetrates the dense jungle of new experiences, toward the light of real, if hard won, wisdom."
—Mardi Jo Link, author of Bootstrapper and The Drummond Girls