Mommy I'm Still In Here: One family's journey with biopolar disorder
By Kate McLaughlin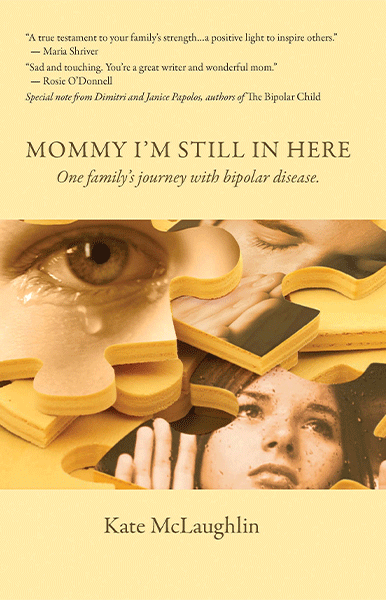 Trade paperback
5 ½ x 8 ½
Nonfiction/Health/Family Issues/Bipolar
Release Date: March 2008
$14.95
ISBN: 9781933016498
No other book so eloquently and honestly conveys the physical realities and battered emotions of a family caught in the swirling storm of a child's hallucinations and psychosis. Nothing else accurately depicts the frenzy of mania, or suicide attempts and their bittersweet aftermaths. No other writer so aptly illustrates the personal changes in parents of disabled children, nor connects them to the emotional and spiritual growth borne of their occurrence.
This book supports, educates, and informs the reader, offering hope and encouragement to anyone living with chronic illness or raising teens. McLaughlin pulls the reader into her home, boldly illuminating family scenarios in an effort to destroy shame-based assumptions. Examples of successes and failures in dealing with irrational and emotional issues abound.
About the Author
Kate McLaughlin
Kate McLaughlin frequently speaks and writes on the topics of communication, education, family issues, and mental health. McLaughlin, a mental health advocate, is a member of the Depression and Bipolar Support Alliance, the National Alliance on Mental Illness, and the Juvenile Bipolar Research Foundation, and participates in NAMI's Family – to – Family program.
Reviews and Accolades
"Sad and touching. You're a great writer and wonderful mom."
– Rosie O'Donnell
It is wonderful that Kate McLaughlin is using her family's story to promote awareness of bipolar disorder and put an end to the stigma that so often accompanies it.
-Tipper Gore
"Mommy I'm Still In Here does what good books are meant to: comforts us, showing us we are not alone. It is vivid and sincere."
-John Neufeld, Author of Lisa, Bright and Dark
".a true testament to your family's strength to turn such a tremendous challenge into a positive light to inspire others."
-Maria Shriver
"As a mother of two children with mental illness, Kate McLaughlin has not only written about my family, but about hundreds of other families as well. We want them to have quality of life, opportunities for a successful life and choices that allow them to exhibit and explore the special qualities they have. We love them. We want you to accept them."
-Deborah Rose, Director of Educational Development – National Alliance on Mental Illness, Texas
"Kate McLaughlin chronicles with great love the difficult journey her family has experienced. With two of her three children having been diagnosed with bipolar disorder, she eloquently conveys her hard-won understanding of how challenging it can be for a family to live with mental illness and to fight the necessary battles along the way. But most importantly, she tells an extremely positive and motivating story that offers hope to all who struggle with this devastating illness."
-Andy Behrman, Electroboy: A Memoir of Mania
This mother's faith and courage are an inspiration to anyone who is struggling to change the unchangeable. She encourages calm acceptance and demonstrates that it is not a simplistic approach but the only approach.
– Maggie Harding, www.faithfulreader.com, www.bookreporter.com and www.livinglightnews.com
".extremely gripping, moving, and well written. Mommy I'm Still in Here will be a welcome and needed 'reality check' for families coming to grips with this disease."
-Shelley Reinhardt, Senior Executive Editor, Columbia University Press
The adage "Truth is stranger than fiction" is certainly applicable in the case of Mommy I'm Still in Here: Raising Children with Bi-polar Disorder. Kate McLaughlin paints a picture of what appears to be a typical Norman Rockwell family who wakes up one morning to find itself trapped within a surreal image by Salvador Dali. In the course of a few short years, both of the McLaughlin teenagers find their lives overcome by severe cases of adolescent onset bipolar disorder.

Despite a history of mental illness in the family, the author describes her shock as the lives of her near perfect daughter and later her son morph into something quite bizarre before her eyes. In this emotional journey, I felt like a friend and confidant rather than an onlooker as I accompanied McLaughlin into the depths of her children's rapid-cycling mania and depression. Her vivid descriptions of the physical and psychological changes that occurred, adapted from a personal journal, are as terrifying as any horror movie – almost beyond imagination, yet true. For those dealing with bi-polar disorder in their own family, the details of day-to-day challenges in dealing with doctors, therapists and issues relating to medicines will prove particularly helpful. Mommy I'm Still in Here is also an excellent resource for anyone working with adolescents.
-MyShelf.com
Mommy I'm Still In Here is distinctive for its frank depiction of how difficult Chloe and Michael were to deal with. McLaughlin's readiness to talk about them openly is admirable. This memoir will be revealing and possibly familiar to many people who have lived with a mentally ill person in the family. The writing is vivid and the chapters are short, so this is an easy read even with the difficult subject matter. Recommended.
~ Christian Perring – Metapsychology Online