Tetched
By Thaddeus Rutkowski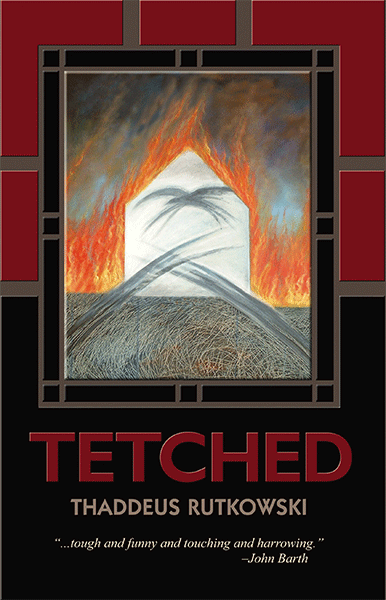 Trade paperback
5 ½ x 8 ½
175 Pages
Fiction
Release Date: October 2005
$13.95
ISBN: 9781933016160
Early on, the boy witnesses his father's struggles with idealism, alcoholism and a faltering art career. The boy's mother tries to comfort him with Confucian wisdom learned during her childhood in China, but her statements do little to further his understanding. Helpless siblings, quirky neighbors and rigid schoolteachers only deepen the situation. Undaunted, the boy reports on the wackiness around him with clarity, grace and humor.
As the narrator leaves his childhood home for college, he travels (mostly by thumb) in search of companionship, but finds nothing that lasts. Eventually, he settles in a city and begins to build a life.
But his early troubles stay with him, causing his own obsessive/compulsive behavior. After a series of frustrating, half-comic encounters, he meets Ms. Right and plans to fashion an enduring relationship with her.
In spare, sharp prose measured into vivid scenes, Rutkowski evokes the internal conflicts that accompany a difficult childhood and its unpredictable, often absurd aftermath.
About the Author
Thaddeus Rutkowski
Thaddeus Rutkowski grew up in central Pennsylvania and is a graduate of Cornell University and The Johns Hopkins University. His first novel, Roughhouse (Kaya Press), was a finalist for an Asian American Literary Award.
His work has been anthologized in The Outlaw Bible of American Poetry, Screaming Monkeys: Critiques of Asian American Images and The Naughty Bits: Reviews from Nerve.com. His writing has appeared in American Letters and Commentary, Artful Dodge, CutBank, Fiction, Global City Review, The Laurel Review, Pleiades and The New York Times.
He has taught at the Asian American Writers' Workshop, the Hudson Valley Writers' Center, Pace University and the Writer's Voice, and has been a resident at Yaddo, MacDowell and other colonies. He has won the weekly poetry slam at the Nuyorican Poets Cafe and was selected to read in the New York Poets Live festival at the former home of East German president Erich Honecker in Berlin.
Reviews and Accolades
"…one of the most original writers in America today…the world will look different to you. "
– Alison Lurie, 1985 Pulitzer Prize winner for Foreign Affairs
"Thaddeus Rutkowski writes with wit, poignancy, irony, sensuality, spareness and style."
– Janice Eidus, author of The Celibacy Club
"What Thaddeus Rutkowski shares with the reader comes from a country not far from the land of Mary Gaitskill; yet his voice is like none other. It's a man's voice, both profound and crazed, arising from beginnings so brutal they make a razor strap seem easy to endure."
– June Akers Seese, author of James Mason and the Walk-In Closet
"Rutkowski evokes skillfully the internal conflicts that accompany a thorny childhood and its volatile, often absurd aftermath."
– Mad Hatters' Review: Edgy & Enlightened Literature, Art & Music in the Age of Dementia
"He might be one of the more singular writers on the scene today.a gifted performer of both his prose and his poems, he has a consistent and recognizable voice.Rutkowski has, like Joyce in A Portrait of the Artist, achieved command of his style and successfully navigated the shoals of autobiographical fiction."
–Book/Mark-A Quarterly Small Press Review/Fall 2005
"A vibrant story of self- discovery and learning what it means to become a well-adjusted adult."
–Midwest Book Review
"Rutkowski's novel has the depth and complexity required to engage the reader utterly in a seamless, forward-moving narrative. His paragraphs are written like film script scenes, with implied fade-in and fade-out, which are in turn composed of sentences that are tiny, no-frills portraits. There are moments of hilarity and beauty throughout the book, bright glimmers of the underside of bleak despair."
–Susan Piperato, Chronogram Magazine
".one of the funniest, and most disconcerting, novels I've read in a long time. Rutkowski is brilliant at creating absurd but somehow believable little scenes."
– Kevin Higgins, nthposition Magazine
"Reading Rutkowski is like opening a matrioshka doll, playing with the parts, then putting her back together.What makes TETCHED remarkable to me is the emotionally cool tone of the "fractals" of text. It is not cool-for-coolness'-sake. The unsafe terrain of home is inherently charged, and could become melodramatic in the telling. But the language here has an organic humor akin to the self-experimentation of its narrator, more curiosity than wit, more let's-see-what-happens than let-me-tell-you-what-happened. Instead of hearing a confession, we get to experience the snapshots of memory from a simultaneously detached and internal place.
–Anne Elliott, www.assbackwords.blogspot.com/