The War Of The Rosens
By Janice Eidus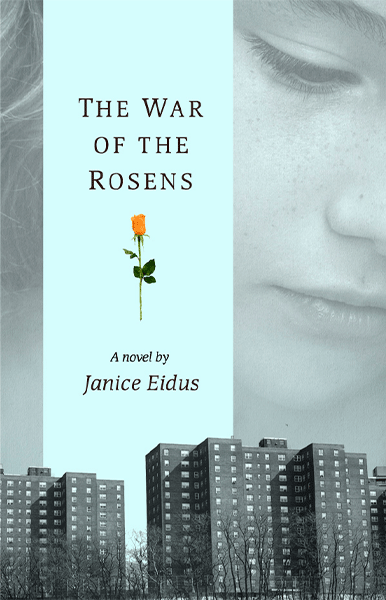 Trade paperback
5 ½ x 8 ½
Pages
Fiction
Release Date: Sept. 2007
$14.95
ISBN: 9781933016382
Charismatic but volatile Leo Rosen, a self-described "politically progressive Jewish atheist," tries to convince his 10 year-old daughter, Emma, that there is no God. Emma grapples with her conflicted feelings. Drawn to what she perceives as "the poetry" of Faith, she worries that if God does exist, He will punish the Rosens for being bad Jews. Leo's wife, Annette, unappreciated by her family, fantasizes about running away like a "rebellious teenager."
But what everyone is unaware of is that 13-year-old May has disturbing physical symptoms, which she keeps a secret because of her fear of doctors. Willful May, who is wildly jealous of Emma, convinces herself that she isn't ill, but that God is testing her to see if she deserves Marvin Ludwig, the boy she loves from afar.
The Rosens are dreamers. They are all trying to change things, to map their own dreams of a world in which the meanings of "Faith" and "Love" will one day be fully understood and realized, to create some possibility of a future, which becomes the most essential dream of all.
Written in the tradition of Myla Goldberg's Bee Season , Janice Eidus' War Of The Rosens will stay in your heart forever.
About the Author
Janice Eidus
Novelist, short story writer, and essayist JANICE EIDUS has twice won the O.Henry Prize for her short stories, as well as a Redbook Prize, a Pushcart Prize, a National Writers Voice Residency Award, and a grant from the Barbara Deming Memorial Fund. She is the author of four highly acclaimed books, the story collections, The Celibacy Club and Vito Loves Geraldine, and the novels, Urban Bliss and Faithful Rebecca. She's co-editor of It's Only Rock And Roll: An Anthology of Rock And Roll Short Stories.
JANICE grew up in an iconoclastic Bronx family, and she writes frequently about issues of Jewish identity (sometimes with humor, always with affection). Her work appears in such anthologies as The Oxford Book of Jewish Stories and Neurotica: Jewish Writers On Sex, as well as in the magazines The Forward and Tikkun. She has been invited to read and speak at such venues as The Jewish Museum, The Eldridge Street Synagogue, and Hebrew Union College.
JANICE is on the Writing Faculty of the Low-Residency MFA in Creative Writing at Carlow University. She also offers individual writing tutorials, and teaches at numerous writers conferences and festivals throughout the United States, Europe, and Latin America. She lives in New York City and San Miguel de Allende, Mexico.
For more information, visit her website, www.janiceeidus.com.
Reviews and Accolades
It took all of about thirty seconds for me to be drawn into this beautifully written family saga set in the 1960's in the Bronx. Janice Eidus gives us a young protagonist who is an aspiring poet but the author is something of a poet, herself, in her construction of a world you can feel, hear, taste, and touch. These multi-dimensional characters might have been your classmates or neighbors or cousins or friends; that's how tangible and real they seem.

Their complicated and fascinating inner and outer lives are achingly human and thoroughly accessible. Eidus pushes every empathy button in a writer's repertoire. Who doesn't remember being a child and grappling with existential issues far too complex to understand at that level of maturity? Eidus taps right into this very young, though sophisticated, thought process and the child's valiant attempt at understanding the world is both poignant and touching.

We care about these characters and ache for them from the first page until long after the book has been closed and returned to the shelf. There's the brooding and angry father, overwhelmed by responsibility, the overworked and little-understood but caring mother, the jealous, frightened, insecure sister and the golden child, at the center of it all who, while searching for answers, tries to make sense of the world around her.

The tragedy is wrenching yet, written with a fine touch, it contains no artifice, excessive drama, or cloying emotion. What we feel as we read line by line is life lived hour by hour and day by day. So spend a few hours or days with the Rosen family. It will be time well spent.
– Jewish Book World
A very good book and one of the most compelling stories I've read in a while. This is one of those 'life observed' types of novels. We learn about ourselves by watching the characters and Eidus excels at creating compelling characters. She does it gracefully and that's why I've spent most of this review talking about the Rosen family.

It's quite a feat to write a novel about a 10-year-old girl. There are not many authors who could do it. But, Eidus did it well. She should enjoy some smug satisfaction knowing she got me to read all the way to the end. And, I enjoyed it.
-Jewish Literary Review
Nominated for the American Library Association's 2007 Sophie Brody Award – this award recognizes outstanding achievement in Jewish literature.

In Eidus's confident fifth book, it's 1965, and 10-year-old cutie-pie Emma Rosen is navigating the rough seas of preadolescence and her temperamental Jewish family in a lower-middle-income Bronx housing project. An old-fashioned coming-of-age tale, the book soon grows dark with crisis. Eidus illuminates the inner lives of young girls on the cusp of womanhood and demonstrates abundant compassion for her often prickly characters.
-Publishers Weekly
Eidus is a camouflage artist whose writing has a dark underside while beams of light struggle to break through the gray pall over this complex coming-of-age novel. As the Rosens are cruelly tested, Eidus works out a calculus of guilt, fear, and love. Grim and incisive, caustically humorous, and affecting, Eidus' drama of moral reckoning is rendered with barbed detail to yield what Leo calls "The Truth With a Capitol T."
-Booklist
Eidus has a spirited voice and a sly affection for her characters.
-New York Newsday
Janice Eidus' writing is intensely moving and fiercely intelligent. With bittersweet humor, and without sentimentality or nostalgia, she eloquently evokes the diverse voices of the adults and children of the colorful, eccentric Rosen family. She vividly captures not only the world of the Bronx in the mid-sixties, but also the world of one Jewish family struggling to survive in a harsh world charged with beauty and possibility.
-Vivian Gornick, author, Fierce Attachments
Deeply urban, playfully iconoclastic, unconventio-nally conventional, meticulously tuned to myriad voices and social registers …each day just a little different than the day before. -Bloomsbury Review
…distinguished by irony, intelligence, and unexpected moments of tenderness.
-Kirkus Reviews
Janice Eidus…possesses a fierce imagination; the book's surrealistic edge is inventive and darkly amusing…
-The New York Times Book Review
Eidus displays a wonderful ear…
-The Village Voice
We are reminded that our own humaneness, joys, and failures are not all that different from those found in the lives of people who seem, on the surface, to be living very different lives from our own.
At the same time we are entertained by wit, dark humor, dialogue that sounds like real human beings speaking, and a plot that coils back on itself with masterful structure. With The War of the Rosens, Janice Eidus, author of four other novels, joins the first rank of contemporary American novelists.
– Roy Sorrels, www.culturevulture.net
The Truth with a Capital T is that you have written an incredible book! Prepare yourself for fame! This book is noteworthy for its examination of themes of non-belief and figuring out how to be a "good Jew" despite this lack of belief, plus, of course, coping with tragedy without this belief to fall back on.
– Rabbi Peter Schweitzer, The City Congregation for Humanistic Judaism
Read Janice's interview with Writing It Real