Voice
A Stutterer's Odyssey
By Scott Damian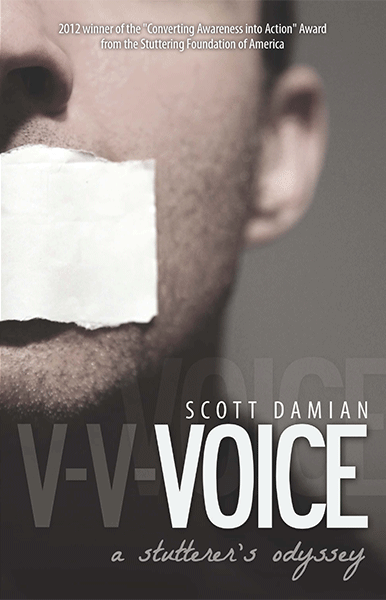 Trade paperback
5 ½ x 8 ½
225 Pages
Non-fiction – Memoir/Biography
Release Date: March 2013
$15.95
ISBN: 9781933016849
These are the wounding, humiliating trials that 60 million stutterers worldwide endure each and everyday…and Scott Damian is one of them.
In this gritty, raw memoir, Damian details the stirring battles he endured while searching for a solution to his inability to speak without stuttering.
From his haunting blue-collar childhood in New Orleans to the physical and psychological scars that led Damian down a path of self-destructive behavior that was as crippling as the stuttering itself, "V-V-Voice: A Stutterer's Odyssey" chronicles the struggles of one stutterer to do the unimaginable; to use his voice as an actor and a writer, and help others find their own.
About the Author
Scott Daminan
A native New Orleanian and second-generation Guatemalan, Scott Damian learned storytelling at a young age. Grappling with a severe stutter, Scott attained fluency by creating stories and ironically performing in front of live audiences. Graduating from Loyola University of New Orleans, where he earned his B.A. in English, and attending The British American Drama Academy in Oxford, U.K., where he studied under Tony Randall and Alan Rickman, Scott moved to LA and led a successful acting career. But when Hurricane Katrina ravaged his hometown, Scott turned to storytelling to tackle the grief, and redefined himself as a writer, where he penned his first play, Coffee Stains. A few years later, his memoir and audiobook Voice: A Stutterer's Odyssey was published nationwide. The Stuttering Foundation honored Scott with the award Converting Awareness Into Action alongside John Stossel and Byron Pitts.
Through his production company BME, Snapper—which Scott wrote and directed—won the prestigious Prometheus Film Festival Award for Best Short. He has co-written three Hallmark films, A Joyous Christmas starring Bonnie Bedelia and Michael Rady, Season for Love, which dominated the top of the weekly cable ratings–making it one of Hallmark's most popular summer movies ever–and Chasing Christmas Love which is slated to premiere later this year. He wrote, co-directed and co-produced the feature film, Racing Colt, which debuted at Stan Lee's Comic-Con and opened in select theaters. Working alongside Imagineers, Scott also served as Director/Creative Consultant for the opening of Star Wars: Galaxy's Edge at the Disneyland Resort. Scott is in active development on multiple projects for both Hallmark, Stargazer Films, and MarVista Entertainment. He's also writer and director for the forthcoming crime drama podcast series, Hope Haven, and the thriller, Among.
Here is a recent article about him: https://shoutoutla.com/meet-scott-damian-writer-director-producer-branded-maverick-entertainment/