Dementia Home Care: How to Prepare Before, During, and After
By Tracy Cram Perkins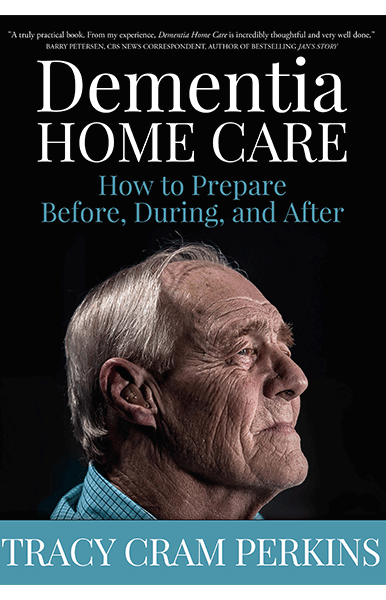 Trade paperback
8 ½ x 11
266 Pages
Memoir
Release Date: April 15, 2021
$16.99
ISBN: 9781941887127
What about the first time you heard the doctor say your loved one has dementia?
Tracy Cram Perkins is no exception, except that her experience navigating the uncertainties of caregiving prompted her to help other caregivers ford the pitfalls. Moreover, when most people face dementia caregiving for the first time, they tend to get hung-up on the first word and lose sight of the second.
What does it take to care for someone with dementia? Where and how do you start?
This comprehensive guidebook will teach you:
Life hacks for managing agitation, bathing, shadowing, wandering, and more
Distraction techniques
Ways to reduce or prevent aggressive dementia behavior
How to work with hoarding
How to create memory aids
How to make time for self-care and recharge your batteries
Tips for utilizing medical professionals: doctors, pharmacists, emergency medical services, and when to call 9-1-1
Powers of Attorney and other essential resources
Death—what to do after your loved one dies, from placing death watch reports with the Credit Bureaus to dealing with digital estates
These are a few of the skills and tips covered in Dementia Home Care. While these tools will not stop dementia, they may lessen your load—and these skills can be taught to anyone.
Whether you read the book from cover to cover or are a page-fanner, Dementia Home Care will teach you how to preserve your humor, your stamina, and prolong your emotional connection with your loved one.
About the Author
Tracy Cram Perkins
Tracy Cram Perkins is a dementia caregiving survivor and blogger. Her twelve-plus-years of experience caregiving for two parents with dementia provided the nucleus of Dementia Home Care. She experienced the depression, anxiety, and guilt which comes with dementia care and recognized each person's journey with dementia follows a different path. This guide grew from the questions presented by family members and friends overwhelmed by caregiving challenges and the frustration of not being able to find caregivers hands-on answers in one book.
Tracy and her husband reside on Washington State's Olympic Peninsula, with two cats and assorted fish. Tracy believes that the sound of our laughter and the memories we create with others are the most important things we leave behind.
For more information, you may visit Tracy's website: tracycramperkins.com